Where did this week go??? For that matter... where did August go? Can you believe that next weekend is Labor Day? Or, that Ms. Diva is already 10 months old?
Ms. Diva aced her Well Child visit this week. The doctor asked all these questions: Does she crawl? Does she push things? Is she interested in trying solid food? etc. The answer to all the questions he asked was a resounding YES! She crawls everywhere, she crawls faster when there is any type of door open (especially if you don't want her on the other side of it, LOL). She pushes and pulls things to move them out of her way. One of her favorite things is to put her hands on things, and then start to this crawl/slide thing across the floor kinda pushing her hands in front of her. Solid food, are you kidding! The child begs food with more talent than any pet I have ever seen! When they did percentiles, she was over 100% on height, and only 50% of weight. She is one tall, skinny chicklet.
Finding the perfect ambush spot.
Unsuspecting Victim (daddy-e-o)
Sneak attack in progress!
1. How many pets do you have?
Which ones can I count? 2 horses, 2 dogs, 5 barn cats (currently no birds and no fish) PS - do the craw fish living in the pond count as "pets"?
2. If you could switch places with anyone in the world for one day, who would it be?
Someone that doesn't appreciate their family. I can think of all these amazing people to switch with, but wouldn't be a better experience if you could bring something to that person's life? I think that way to many people in America take their lives for granted. We have so much, that when you sit down and truly look at it, you realize that you have way more than you have to worry about.
3. What is your favorite money saving tip?
Don't spend your money. Seriously, people spend way to much money on "extras" and don't even realize. Do you really need that fast food today?
4. What do you want your kids to be when they grow up?
I want them to be happy children of God.
5. What is your favorite quote?
Be flexible, Deal with it. If you can laugh at it, you can handle it. These are just two of my favorites. I have a spot in my sidebar (Thought for Today) that I love switching out anytime I find a new "favorite" quote to share.
I Owe It All To Him's

question of the week: What is your favorite place? I love any place out in nature. Love being up in the mountains (either in summer or winter), love the beach, love the deserted beauty of the desert. I find it very hard to pick one type of place as my favorite. Right now I would love to go somewhere "tropical", and hang out at the beach and snorkel.
Five Question Friday is hosted by My Little Life. Check out how other people answered these questions at her link party!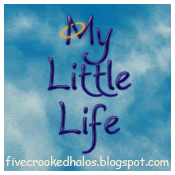 Have something funny from this week you want to share? (Like Ms. Diva's doctor's appointment) Or do you need a good laugh to get your weekend off to the right start? Check out Bee Funny Friday hosted by Family and Life in Vegas and Crazy About My Baybah.