I am wrapping up the weekend by getting two pairs of Stay-Put Towels listed on my new Etsy site:
http://www.etsy.com/shop/SpunkyDiva
. Check out the new shop!
And of course, a fun picture of my helper.
I completed 22 pairs of towels this weekend, and will be posting pictures of them throughout the week.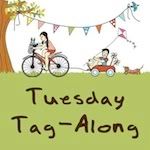 To The Top Tuesdays linky list is below: