It is hard to believe that tomorrow it will nine years from the most remembered Sept. 11th in history. Since then my family members have done multiple tours overseas, and made it safely (if not sanely) back each time. I thank God each day for their continued safety. May we remember the attacks in our hearts on this day, and remember the lives lost and families affected both on that day and in the nine years since. Children have grown up without one or both parents. Parents lost children. As a nation we lost our innocent belief that we are safe on home soil. We learned what hate in the name of religion can feel like when it strikes home.
If you can read thank a teacher. If you are reading this in English thank a Soldier.
1. Do you feel guilty spending money on yourself?
Normally, unless it is on fabric, LOL! It is just hard to justify spending money on myself when I 'know' there are more important things to buy with that money. Hence, my last haircut was over 6 months ago. Luckily (or one of the reasons for so few haircuts) curly hair doesn't really show the lack of good haircuts.
2. How well do you know your neighbors?
We know a couple very well. The others I am determined to get to know better over a plate of holiday cookies.
3. What age are you looking forward to being?
Do I have to look forward to an age? I am glad to be an adult, but I still look back on my 'carefree' late teenage/young adult years with envy. Not that I would trade places, but I wish that I had taken advantage of those years of less responsiblity more than I did.
4. Do you get excited when the mail comes? Why?
Of course I do! You just never know when the mail man (or woman in our case) might bring a special surprise!
5. What is your earliest childhood memory?
I remember the prickly beach in Hawaii that we lived across from when my dad was stationed there. The pictures show the beach covered by black pine needles. We moved back to WA State when I was four, and I don't remember anything but those prickles, LOL!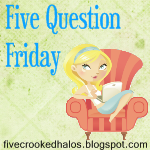 Cindy (I Owe It All To Him) is very much in need of our prayers. Her husband is still in Intensive Care following a heart attack. Please take a moment to pray for her and her family. If you have another moment to spare, please leave her a comment on her blog to let her know. It is amazing the support we can receive from other cyber-friends when we are in need. Let us show Cindy that support!
Linking up with this fabulous parties! Remember to check back for Etsy Tuesday and Treasury Thursday!