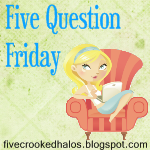 Three day weekend here I come!!!!!!!! Hubby has today (Friday) off to, ugh! This isn't going to be a very long post. Baby is off to bed, and I will be soon.
1. What do you do when you have time to yourself?
When I have time to myself? Craft, LOL.
2. When you look out your kitchen window, what do you see?
A field with the horses in it, our pond, and whatever birds are flying around. Most of all I love seeing the sunrise out my kitchen window.
3. Who/What would you want to be reincarnated as?
Don't believe in it. Sorry.
4. What is your biggest pet peeve about other people's kids?
Them being out of control. My 10 month-old has better manners than some kids. And, normally it you can tell that it is because the parents are not will to say no.
5. Regular or Diet soda?
Regular. If you are going have a soda it might as well be the real thing!
This week's question from I Owe It All To Him is... Not sure yet, LOL! Will post my answer once this week's question is up.