1. What movie could you watch over and over again and not get tired of?
Last of the Mohicans. I have watched that movie so many times, LOL! It is all about having a good cry type movie. Beautiful scenery, beautiful music, beautiful leading man. Need I say more?
2. What's your biggest pet peeve right now?
I am sure I have one, but right now I am sooooo ready to not be pregnant that issues with others is not high on my list at the moment.
Speaking of that... Ms. T should be making her arrival any day now (which makes it even harder to still be pregnant).
3. If you had to describe your best friend in five words or less, what would you say?
Only five words... that doesn't leave much room for clarifications... let's see... Best Friend, Fun, Trustworthy, and Listens.
4. If you did not have to worry about money or go to school what would you do for a living?
Be a stay-at-home mom that gets to craft and blog about it. The crafting and blogging part are currently true, but the stay-at-home part is a work in progress.
5. What is your one "splurge" item, that you will always buy, no matter the cost?
Gas for my car? Sometimes it seems like a splurge item when it costs more to fill up than it does to go out for dinner with the family. Ouch!
Another item would be good shoes. I have not been a Payless kinda girl for a long time. I like quality, and cheap shoes does not cut it for me. And... there is always fabric, LOL!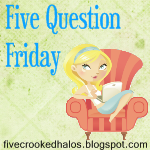 Linking up with: