1. Would you rather be on ABC's Extreme Home MakeOver or TLC's What not to Wear?
Let's see... New home or clothes? Definitely the new home!!! Plus I adore Ty, and would love to meet him. And a new house? Sign me up!
I would love to be on almost any HGTV show too. I am not picky, LOL!
2. Do you have any tattoos?
Nope. I have a thing against self-imposed pain. I had a hard enough time getting my years pierced, LOL. Though I have contemplated a small butterfly before, but wussed out before going through with it. Plus, I couldn't see spending $80 on something that would be a painful experience.
3. Do you tell your kids about things you did growing up?
Not really. It is hard to tell a 16-month-old and a 3-week-old life stories, LOL. I most likely will as they get older though.
4. If the traffic signal turns yellow, do you stop or speed up?
If I am far away enough to stop, I will stop. I am constantly amazed at people who run red lights. Makes me wonder how safe it is to be the first car across an intersection on green.
5. What's your preference: chocolate or chips?
Anything chocolate works for me!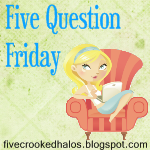 PS - I edited Ms. Diva's picture with
Picnik
to add the 'watermark'. Picnik was much faster for editing the photos I tested than Photobucket has been lately.