Thank you Lord that it is Friday!!!!!! Here are my answers for this 5QF. Check out others' answers by clicking on the button for My Little Life.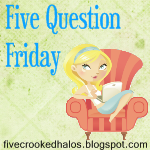 1. Do you collect anything?
I tend to collect clutter. Does that count? I do have a collection of butterflies that tends to lead the way in the clutter though. I also tend to collect fabric for my sewing, and embroidery designs too. One of my goals this year is to do better about using fabric I already have for projects, and not just buy more because I "think" I need it.
2. Name 3 celebrities that you find good looking.
Only three? Brad Pitt, Hugh Jackman, and a young Sean Connery (I would take an old Sean Connery too!).
3. Do you have any scars? If so, what's the story behind it (them?)?
I had my appendix out in grade school, had a c-section last year, and the interesting scar... I have a scratch on my arm from a sweet, cuddly bunny (not, bunnies truly are the devil incarnate) that even though disinfected and treated still left a ridge of scar tissue.
4. What is a food that you like to eat, but others might think it's gross or weird?
I love wasabi! There is nothing like the burn of wasabi to clear out your sinuses. During summer when it is hot I also eat frozen peas and corn. A healthy snack, but hubby thinks it is the weirdest thing ever.
5. Have you ever seen a tornado in real life?
Nope. I would really like to keep it that way too! I have seen a lot of damage from wind storms, but we live south of tornado alley so we normally don't have any tornadoes in our area.