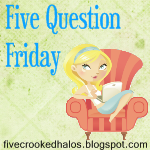 1. What is one thing you miss the most about childhood?
The freedom to take time and dream without limitations. My little girl is constantly showing me how you can be in absolute wonder over the simplest things. Like her little hand, LOL. That sense of wonder I miss. Plus, being able to eat anything and everthing and not gain an ounce!
2. Are you still friends with your friends from high school?
No, I have friends still from church, but not from school. Facebook is a great invention to stay connected to old friends.
3. Is there a catch phrase, cliche, or word that just drives you bonkers every time you hear it?
Currently it's any variation of, "it must be horrible to pregnant during the summer". Okay, folks this is my second, it wasn't bad with the first, I am sure it won't be bad with this one. It's called dress for the heat!!!!! Okay - that is off my chest, LOL!
4. What is one thing that you think symbolizes America...besides "Old Glory"?
Our troops in uniform. They and their families have given so much over the centuries to create and keep this country of ours free. People tend to overlook that without war and death we would not have the freedom of speech we have today.
5. What are your 4th of July weekend plans?
Good old Texas BBQ cookout! Back to eating for two, and gaining every ounce to show it, LOL!
I am linking up with
: