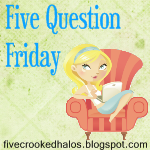 1. Are you a neat sleeper or a messy sleeper?
Yes. Hubby and I each have our own sets of covers as we both tend to be cover hogs, LOL!
2. Fill in the blank. I wish I was more ________________.
Consistent. I always do good for a little while, and then slip back into my procrastination mode. I have two tutorials to complete, and have yet to get any work on them done. Photos taken, uploaded, notes made, but no typing directions as of yet. Ughh!
3. What is something that you wish you had been warned about?
How busy life can get, LOL! I have to admit I have been warned about that. With a a baby, pets, and working fiiting in crafts and blogging about those crafts is not as easy as I thought it would be when I first started. Hence, some of the "random" posts that have been making appearances here on The Spunky Diva.
4. What was the best thing you ever found at a garage sale/flea market?
Some really great saddles for horses. Bargan prices for two really nice brands. Still have one of those saddles, but sold the other one several years ago for more than we paid for it.
5. If you could have any meal brought to you right now, what would it be?
French Toast!
And today's question from: I Owe It All to Him... what is your favorite song? Anything by DC Talk, Toby Mac, Newsboys, Casting Crowns, etc. My most favorite at the moment is still "East to West" by Casting Crowns.
Linking up with...